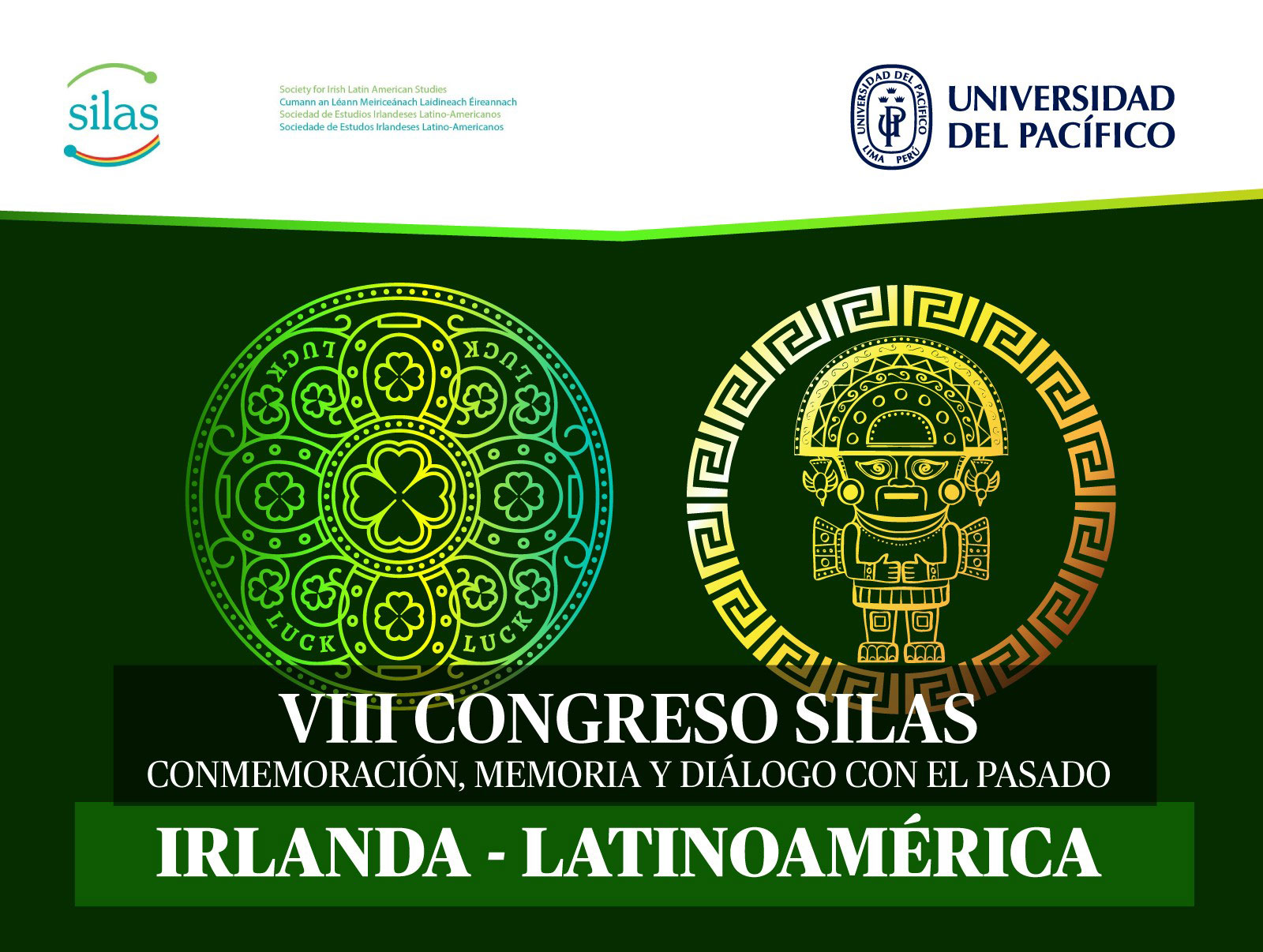 Commemoration, Memory, and Dialogue with the Past
Ireland – Latin America
We are delighted to announce that the next conference of the Society for Irish Latin American Studies, in conjunction with ABEI – Associação Brasileira de Estudos Irlandeses, the WBYeats Chair of Irish Studies/University of Sao Paulo, Brazil and the Asociación de Estudios Irlandeses del Sur, Argentina will take place in Lima, Peru. The Conference will be co-hosted by Universidad del Pacífico and Proyecto Especial Bicentenario from November 23 to 26, 2021. The conference has been moved to a virtual platform.
Conference Registration (includes membership for 2021-22)
Regular member €40
Student €10
Desires and aspirations for independence from Imperial rulers and the fight against colonial systems are ideas and dreams that were common to Ireland and Latin America. Revolutionary movements arose against Spanish, British, and Portuguese colonialism. 2021 is a significant year for Peru, Mexico, Central America (Costa Rica, El Salvador, Guatemala, Honduras, Nicaragua, and Panama) as they commemorate their national independence bicentennials. Likewise, the decade 2012-2022 is the Decade of Centenaries marking historical events in the formation of modern Ireland. This conference seeks to create a space for discussion and an exchange of ideas about the meaning of the making of a nation with regards to Ireland and these countries.  The challenges involved in both nation-building and the documenting of that process will receive attention; the conference is also interested in analyses of cultural responses to nation-building in the form of press and media coverage, writing, art or any form or popular culture including song.
The conference will also explore the many transnational dialogues between Ireland and Latin America over the process of nation-building and independence and the reception of these ideas. Finally, the conference is open to scholarly investigations of the multiple commemoration processes of independence and revolution in both Ireland and Latin America as a way of opening up fruitful comparative pathways.
The conference would like to bring together scholars from across disciplines who are interested in connections between Ireland, Latin America, the Caribbean, and the Iberian Peninsula. We invite individual proposals for twenty-minute presentations (papers/posters) or for panels of three people exploring a similar theme.
The following themes are suggested          
Historical Memory and its Social Function                              Gendered Narratives of Independence
"Invention of Tradition"                                                            Reproducing the Nation
Constructions of Nationalism                                                   Biographical Writings
Comparative Colonialisms and Decolonization                       Letters and Diaries
Migrations, Mobility, Place, Identity                                         Music, Film, Literature
Transnational Solidarities in Independence Processes           Cultural and Textual Translations
Please submit an abstract of no more than 250 words by September 15, 2021 to the SILAS Conference Academic Planning Committee, at silasperu21@gmail.com.
Panel proposals should include a description of the panel (no longer than 150 words) and should be accompanied by 250-word abstracts. Likewise, poster proposal abstracts should be no longer than 250 words. All proposals should be accompanied by a brief bio or one-page CV. Individuals should not submit more than one proposal for a panel, paper or poster. Decisions will be made by September 30, 2021. Both English and Spanish language presentations will be considered.
Deadline: September 15, 2021
Conmemoración, memoria y diálogo con el pasado
Irlanda – Latinoamérica
Nos complace anunciar que el próximo congreso de la Sociedad de los Estudios Irlandeses-Latinoamericanos, en conjunto con ABEI – Associação Brasileira de Estudos Irlandeses, el WBYeats Cátedra de Estudios Irlandeses/Universidad de Sao Paulo, Brasil y la Asociación de Estudios Irlandeses del Sur, Argentina será en Lima, Perú. El congreso tendrá como co-anfitriones a la Universidad del Pacífico y al Proyecto Especial Bicentenario y se realizará del 23 al 26 de noviembre de 2021. La conference se ha movido a la plataforma virtual.
Deseos y aspiraciones de independencia de las autoridades imperiales y la lucha contra los sistemas coloniales son ideas y sueños que tanto Irlanda como Latinoamérica tuvieron en común. Los movimientos revolucionarios surgieron contra el colonialismo de España, Gran Bretaña y Portugal. El 2021 es un año significativo para el Perú y Centroamérica (Costa Rica, El Salvador, Guatemala, Honduras, Nicaragua y Panamá) ya que todos conmemoran el bicentenario de su independencia nacional. Asimismo, la década del 2012-2022 es la Década de Centenarios que marca los sucesos históricos en la formación de la Irlanda moderna. Este congreso busca crear un espacio de discusión y de intercambio de ideas acerca del significado de la construcción de la nación en estos países y en su relación con Irlanda. Se prestará atención a los desafíos involucrados en la construcción y en la documentación del proceso. El congreso está interesado en el análisis de las respuestas culturales ya sea de la prensa y de los medios de cobertura, la escritura, el arte o cualquier otra forma de cultura popular incluyendo canciones.
El congreso también explorará los distintos diálogos transnacionales entre Irlanda y Latinoamérica sobre el proceso de construcción de la nación e independencia y la recepción de estas ideas. Finalmente, el congreso está abierto a investigadores académicos de los múltiples procesos conmemorativos de independencia y revolución tanto en Irlanda como en Latinoamérica como una forma de propiciar estudios comparativos.
Nos gustaría reunir a académicos de distintas disciplinas quienes estén interesados en la conexión entre Irlanda, Latinoamérica, el Caribe y la Península Ibérica. Invitamos propuestas individuales para presentaciones de veinte minutos (ensayos/posters) o paneles de tres personas que exploran un tema similar.
Se sugieren los siguientes temas:
Memoria histórica y su función social                         Narrativas de género de independencia
"La invención de la tradición"                                      Reproduciendo la nación
La construcción del nacionalismo                               Escrituras biográficas
Colonialismo y descolonización comparativos           Cartas y diarios
Migraciones, movilidad, espacio, identidad                Música, cine, literatura
Solidaridades transnacionales en los procesos          Traducciones culturales y textuales
de independencia
Por favor enviar un resumen de no más de 250 palabras a más tardar el 15 de septiembre 2021 al Comité Académico de Organización del Congreso de SILAS, a silasperu21@gmail.com.
Las propuestas de paneles deberán incluir la descripción del panel (de no más de 150 palabras) y deberán estar acompañadas por un resumen de no más de 250 palabras. Todas las propuestas deberán estar acompañadas por una breve biografía y un Curriculum Vitae de una página de extensión. Los individuos no deben enviar más de una propuesta para un panel, ensayo o poster. Las decisiones se harán el 30 de septiembre del 2021. Se consideran presentaciones en inglés y en español.
Fecha límite: 15 de septiembre, 2021
Memory and Commemoration SILAS PERU July 27 2021 ENGLISH SPANISH VERSION