IMSLA Special Issue 2020
"History, Art, Image"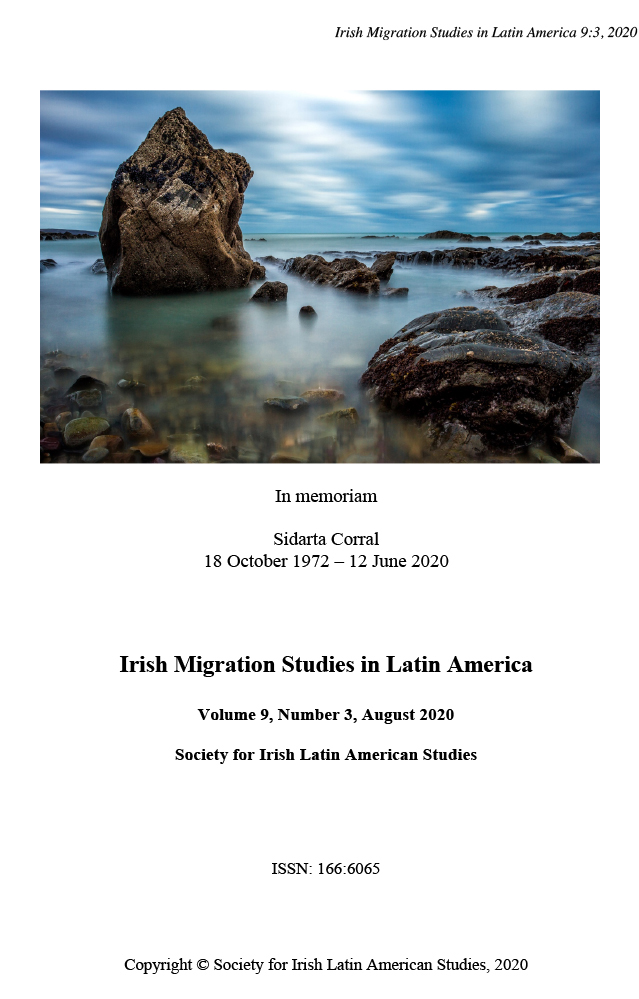 Click here to download the title pages.  Click here to download the entire issue, Vol. 9 No. 3
For individual articles from the current issue, choose from the authors listed below:
Carol Dell'Amico, Guest Editor's Introduction
Nuala Finnegan, "Entre Mundos/Between Worlds: Images of Life between Mexico and Ireland"
Giselle González García, "Irish Hunger Strikers Monument in Havana, Cuba: Public 15 and Private Commemorations"
Tina Lawlor Mottram, "'The Salmon of Knowledge' shared with children in Zona Imaginaria, San Fernando, Argentina"
Lourdes Márquez Carmona, "Irlandeses en la Carrera de Indias: Aproximación a la Presencia de la Colonia Mercantil de Cádiz (España) en el Siglo XVIII en Xalapa (México), a través de los Protocolos Notariales". "The Irish in Pursuit of the Indias Trade: A Look at the Presence of the Irish Merchant Colony of Cadiz (Spain) in Xalapa (Mexico) during the XVIII Century, through Notarial Records"
Edmundo Murray, "Art, Sound, Nature: A Conversation with Irish-Colombian Musician Katie James"
Edmundo Murray, "The Diplomacy of Art: Irish, Spanish and Latin American Artwork in a Historic Building of Geneva"
Edward Walsh, "Journalist, Medical Doctor and Newspaper Editor-Proprietor in Bust-Up"
Book Reviews
Imilcy Balboa Navarro, Reseña de Irlanda y Cuba. Historias entretejidas, Margaret Brehony y Nuala Finnegan, Coords. y Ed.
Dermot Keogh, Review of Barry Whelan's Ireland's Revolutionary Diplomat: A Biography of Leopold Kerney.
Gabriela McEvoy, Review of Harry Dunleavy's Irish Immigration to Latin America.
Maria Medina, Review of Juan José Delaney's What, Che?: Integration, Adaptation and Assimilation of the Irish-Argentine Community through its Language and Literature.
Edmundo Murray, Review of Dermot Keogh's La independencia de Irlanda: la conexión argentina.